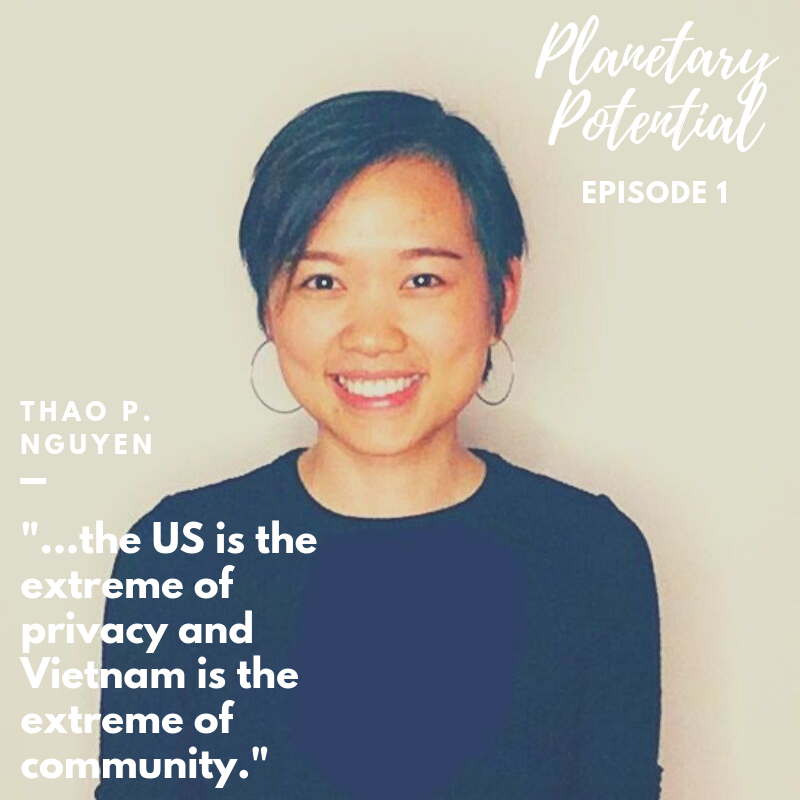 For bonus content, including an extended version of this interview, please see here: https://www.patreon.com/planetarypotential
Transcript follows:
APR = Andrew P. Rowan
TPN = Thao P. Nguyen
Intro
This is the Planetary Potential Podcast, for those who are eager to explore entrepreneurship, innovation, and cross-cultural communication in exciting and interesting places around the world. And now, here's your host, Andrew P. Rowan!
APR
Welcome to episode 1 of season 1. Have you ever lived abroad and then returned to your home country only to find out you had changed more than you thought you did? Thao P. Nguyen, sits down with me to talk through identity, social expectations, and the overall transition between moving from New York City to Saigon. But first, we'll be right back after this.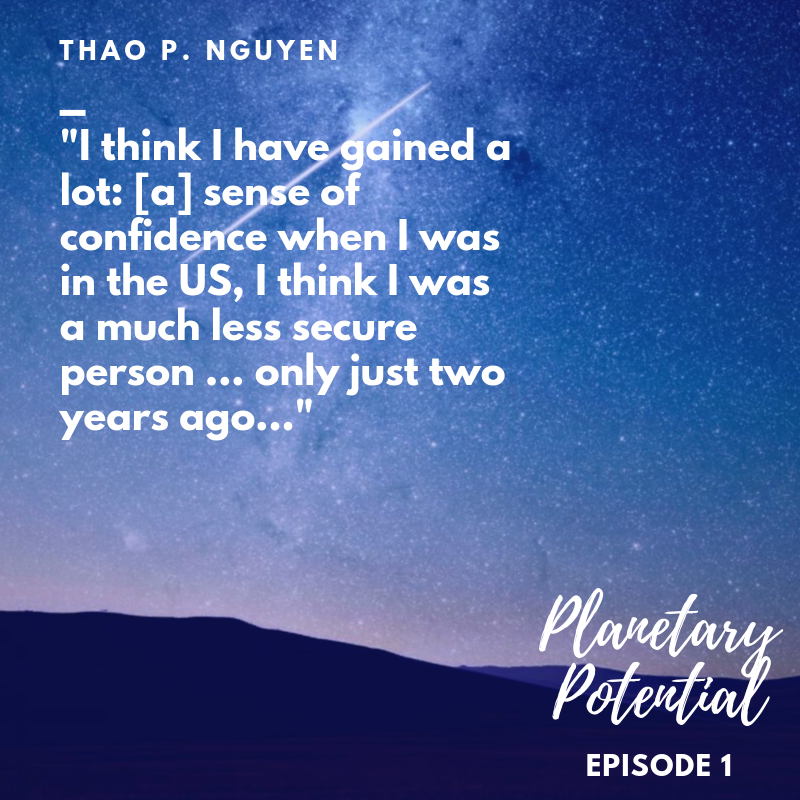 An important reminder that opinions shared on this episode are those of individual guests. For more information, please visit www.andrewprowan.com/disclosures. My conversation with Thao turned out to be a deep dive into what it's like being a foreigner abroad, and in some ways, feeling like one at home, a sensation more Vietnamese will experience as they spend more time outside of Vietnam as students, tourists, or professional workers. To listen to an extended version of this interview, including exclusive bonus content, please visit [https://www.patreon.com/planetarypotential]. Let's head to Lima, Perú to begin our introspective journey with Thao.
APR
With me is Thao P. Nguyen. And we are in Lima, Peru in South America. Thao recently arrived in Lima from Ecuador and I arrived here in Lima on Sunday from New York. So welcome, Thao!
TPN
Thank you, Andrew, it was such a pleasure and such a delight to accidentally bump into you in, in the middle of South America here. So, I originally moved to the US to study for college there for four years, and then work in New York for Indiegogo for two years. And it was a very tough decision for me to decide to move back to Vietnam, because I really, really love New York and I'm enchanted by the energy of New York, but then seeing the potential in Vietnam, and reflecting on how much I missed the culture in Vietnam, I think it's, I should take a chance to go back to Vietnam and see what are the opportunities there. My plan there—now is traveling South America for two months. I have about a month left and then I'm moving back to Vietnam, moving to Saigon, and then try to find a job, get hopefully connected with the startup community there and get used to the environment in Vietnam: see what are the challenges there and my hope is to start something new to try to solve the problems in Vietnam.
APR
So you're from Hanoi originally although you have plans to move to Saigon when you go back to Vietnam. Wondering if you will have a special, let's say, affinity for the American community, because you've lived in the US. And of course, you are a natural ambassador and bridge builder, between the US style and Vietnamese style. Have you thought about that role that you might play in trying to help bridge that gap, so to speak, between cultures? Because you're well experienced in American workplace culture, American culture in general, at least on the East Coast. And having been, well, a native daughter of Vietnam, of course, you know, Vietnamese culture? Have you given that much thought? Or is it more focused on your career and professional aspirations?
TPN
I think Vietnam and the US are really the two ends of the spectrum in terms of privacy and community. So the US is, like the extreme of privacy, and Vietnam is the extreme of community. In the US, it might appear that everyone is so friendly to you, everywhere you go, they say, "How are you? Hi." But actually, they don't care about how you really are, they just want you to say, "Good, how are you," back and then you move on. But in Vietnam, like they really get like, once, you know, get into the weeds of how you have really are. And sometimes you don't have your personal identity when you live in Vietnam, because like, your identity is a sum of everyone's expectation of you. So with that, when I first moved to the US, I didn't have any personal identity. So I got into an identity crisis a little bit, because now I have no direction, no one is telling me what to do, where to go. So it was tough in the beginning. And then the other challenge is that I was not, I was missing the warmth of the people from Vietnam when I was in the US, because it's, it's hard to get an emotional connection with Americans in the US. So I really missed that. But now when, but like it was an a great opportunity for me to, to find out who I am and develop myself personally, really trying to see what I like, who I am in the US because I would never have the same amount of time to be alone anymore. And now, I think moving back to Vietnam, it will be the biggest challenge for me to keep myself true to me. So be really firm with what I believe, what I like, because now I know that like people will have judgment on me. And they will have expectation of me. So that will be a challenge of moving back.
APR
Yeah, so I do agree with you that there are these communication rituals, especially when it comes to, "Hey, how you doing?" and expecting the only answer to be "Great, how are you?" But if you were to respond something else, like—
TPN
—something longer they wouldn't listen to you.
APR
Yeah, I don't think I don't think it would be processed. I think it would just be moving on to the next segment of the conversation. And that's in stark contrast to, at least in my experience, people asking many questions in Vietnam. The rationale being because they care about like how you're doing, where you're going, what's going on? Even the act of gift giving, you give someone fruit because you care for their good health and want them to be healthy.
On the topic of expectations, wondering if there were some social pressures that became aware of, after some time in the US. So what I mean by that is, when I was in Vietnam, the first six months were very different from the next 18 months, which were very different from the next two years after that. So another way to frame that is: the questions I had at six months inside Vietnam were very different from the question that had a two years in Vietnam versus five years at Vietnam… once I became more aware of the culture, once I became aware of the regional differences having lived in different cities across Vietnam. So I'm wondering, because I know you spent you spent time in Massachusetts and then you moved to New York City. And well, of course, they're different regional culture still on the east coast—but different regional cultures. And wondering as the more time you spent in the US, if you became more aware of certain social pressures related to your identity as first an international student, right, and then as a New Yorker.
TPN
Yeah, I think, in college, the influence or the, yeah, the influence was mainly like, what am I studying, and what kind of social activities that I'm doing. But I get more opportunities, who formed my identity when I moved to New York, because for the first time in 20 years, I have no guidance or agenda, to tell me what to do next. So it was a lot of pressure in deciding what should be my future. So that's not only about career, but also what I like to do and what type of friends I want to hang out with. It's yeah, it's a lot of decision at the same times when I first move out of somewhere that I've been used to for four years and also move out of a structure education system.
APR
So much of our identity is tied to work, to employment in the US. Not sure it's the same in Vietnam. Of course, there's a component of that. But for your return, what are some of the other social pressures beyond work that you're thinking about? Or you might be concerned about? Because, you know, at this point, like you're most used to US-style things, right? And, you know, things that things have changed a bit in, in Vietnam in terms of private sector development, the economy, the growth, but also the things that I think were once familiar, that seemed familiar might have transformed, at least on a superficial level. The cityscape, so to speak, in Hanoi. There were times in Hanoi where I noticed one day a building would be there, the next day, it would be gone. And then you could see on the third day already, scaffolding going to completely transform an element of that street. So curious, again, you know, what, what might be some some different social pressures that you're aware of in Vietnam? Of course, your family wants you to stay close, right? Typically, you live with your family, in Vietnam and Vietnamese culture, until you're ready to move out, which is usually because of marriage. The loophole in that in I guess, Hanoi is to move down to Saigon. And so, so there are many Hanoians who move to Saigon. And then usually what ends up happening is the Saigonese, go to Singapore, or or elsewhere. If it's not social influence or social pressure, what are you looking forward to the most when you return to Vietnam?
TPN
So to answer your question about social pressure, I'm not excited about this but it's an apparent concern of my parents. I think they care more about my potential to marry than career, to be honest. And I think this is a major concern of every parents who have a daughter, so they would prefer the daughter to marry into a good family, a good guy and have beautiful, healthy children more than, like, more than anything that they like that the daughter is hoping to pursue career wise.
APR
And well, that sounds like somewhat of a traditional mindset. Although very common still in Vietnam today.
TPN
I think it's pretty common in Vietnam.
APR
And have your parents been direct in expressing these concerns to you? So no hints, just like straight up? Like telling you, "Be careful, because the time you're spending on your career, you're wasting by not trying to find a suitable partner."
TPN
Yeah. Like they would express it by making comments about my appearance. Like you, for example, "you look too dark recently, no one's gonna marry you." And I paid a visit to Vietnam, just like two months ago and they tried to set me up with a guy who is the son of our neighbors.
APR
I see. Because they know the neighbors.
TPN
Yeah. They don't know anything about the guy. But they know the neighbor family is a good family.
APR
I see. So how far along did they get in their mission? Like, did they convince you to meet the guy?
TPN
Yeah. So they invited the entire family to my house to have lunch.
APR
Wow. What—was it a surprise for you?
TPN
Yea, it was a surprise for me. At first, I just thought that its our neighbors visiting me. Then during lunch, the atmosphere was getting kind of weird, because all the attention were getting upon me and the guy.
APR
So you guys were sitting next to each other?
TPN
Yeah.
APR
So, so your parents didn't tell you the purpose of the lunch?
TPN
Yeah.
APR
And they're like, "Oh, you know, the neighbors will come. Join us." And so you join them. And then during the lunch, it was revealed the true purpose. How did you feel when you found out in that moment?
TPN
I was a little bit upset. And I try to be polite with the family and with the guy. But then after that, they want to us my family to pay another visit to the other family by having lunch over there because they think it's a courtesy to like do like home, a home visit to the other family.
APR
Kind of reciprocate.
TPN
Yeah, reciprocate. But then I yeah, I was very mad. And I didn't accept to that. And we got into a very big argument with my mom, it's one of the challenge that I will have deal with when I move back to Vietnam too, is how to maintain my standards, and not hurting and making my family sad. Because obviously, my mom and my dad has a very different idea of what a happy life is. And I know that they're worried about my happiness, that's why they're doing this. But definitely, my sense of happiness is very different now, since I have had the time to reflect on myself abroad.
APR
We'll be right back after this.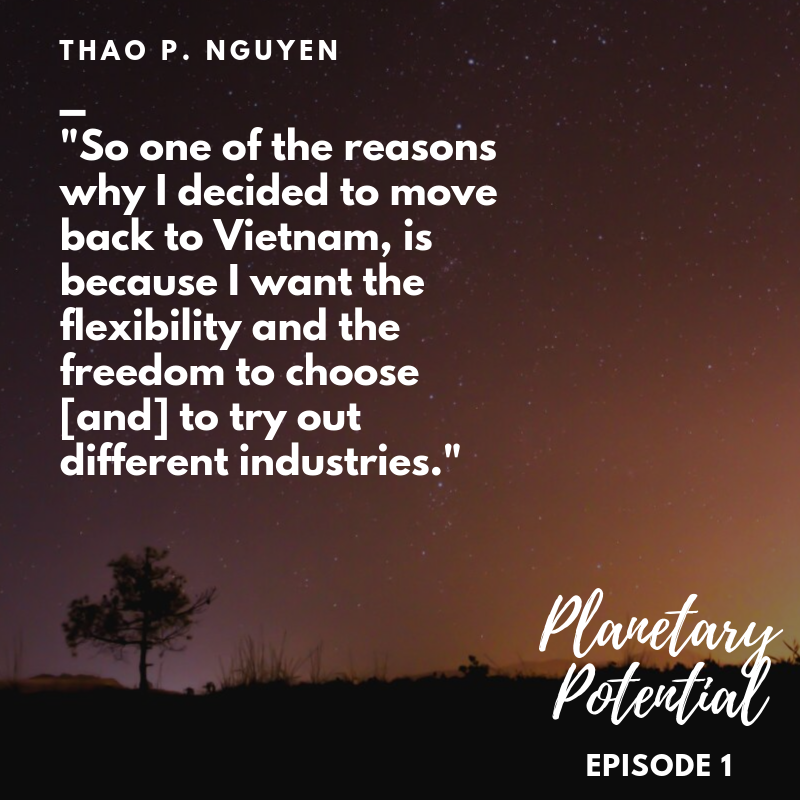 APR
Let's pick up where we left off.
Yea. So on the topic of happiness, then what have been some of the happiest moments for your trip?
TPN
So the highlight of the trip, there's so many highlights. Yeah, the nature is just amazing. And I didn't believe that the scope of nature would be this way before getting on the trip. So I went, I visited Galapagos in, in Ecuador. And it's a dream for marine life lover to visit one of the most biodiverse spots in the world. And, yeah, and I couldn't believe what I, all the different type of fishes and sharks that I've seen. And then there is Peru and Huaraz, I did a four day trek there. If heaven exists, I hope that it looks like that.
APR
So yeah, it sounds like you've made some great memories. It's a bit of a capstone to your time here in the Western Hemisphere. And along that theme, the positive theme, what are the aspects, the priorities that you're looking for in a role? And in an organization?
TPN
Yeah. So one of the reason why I decided to move back to Vietnam, is because I want the flexibility and the freedom to choose to try out different industries. In the US, I think, the industries have been long in the economy has that has been long enough that there has been a concentration of industries in certain cities. So for example, New York, that would be advertising, finance, fashion, for example. But if you want tech, you move to California, and if you want agriculture, then the Midwest in the middle of the US. So you don't really, you can't really choose a city, and choose the industry that you want at the same time. But then with Vietnam, since everything is so new, and it's a lot smaller than the US in Saigon, you would be able to find all the different industry that you want to give a try out. So I'm very interested in a few industries that I want to try out. That includes, agriculture, logistic, manufacturing, and I know, that's a lot already. I'm also like mildly interested in city management. So I don't know, that will lead me but Vietnam definitely will give me more flexibility in terms of trying out different industries.
APR
We'll be back in a moment.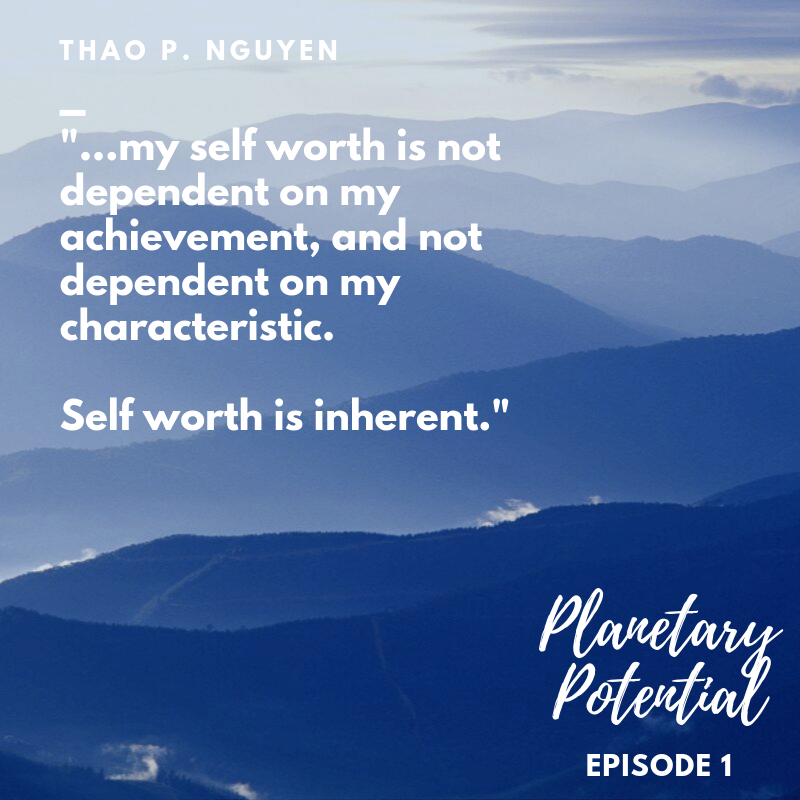 And we're back so let's jump back into where we left off.
APR
Also wondering, what might be the biggest sort of takeaway of the lesson that you learned, from your time in the US? Or what? What's something that surprised you either about yourself or about American people or about the country in general, that you just didn't expect or wasn't on your radar before living, studying, and working in the US?
TPN
One of my biggest surprise is that when I was in Vietnam, and before I actually live in the US, the US is like, a model to, to the people who live in Vietnam. So if I want to grow Vietnam into, help build the country, I look towards the US. But now having lived in the US, I have seen the darker side of the US. There is so much inequality in the US, a lot more than I've seen in Vietnam. So that is one.
APR
So you can see, you can see up close the good and the bad.
TPN
Yeah, the good and the bad.
APR
But before when you were in Vietnam, US is like such a big country, such a strong country.
TPN
Yea, so glamorous.
APR
And this is, yeah, this is something I experienced a lot in Vietnam is when people would ask me, you know, "where you from?" I tell them the US, and, "oh! US number one!"
TPN
Yeah. Số một!
APR
Yeah, thanks, exactly. And then also, you know, I think somebody asked me once, why, I thought that the vast majority of Vietnam had a favorable impression of the US. And I think it was, it was one of two things like what is portrayed in the media. But also lack of travel experience. Right? So there's, you know, for many, for a good portion of the people who talk about US you know, in in everyday life in the streets. You know, like, I go to the gym, and they would tell me, "số một" and all this stuff. I don't think they had actually been to the US and had traveled to the US and traveled across the US. Or if they had it was, you know, as tourists maybe. And, you know, let's face it the US has, has a great reputation, has a great brand. So it's very difficult, I think, to, to come to a different conclusion, even after having, having lived in the US, right? It must not have been easy to realize that, you know, you're absolutely right: inequality is a huge challenge. It's not the only one. The amount of gun violence in the US, it's shocking.
TPN
Yea, it's shocking.
APR
And it's hard to juxtapose its sometimes good and some, some really wonderful qualities that the US has. So I understand why that might be, that might be jarring. Anything on the individual level? Because of course, you know, leaving Vietnam for the first time to study by yourself it takes courage. And it's also I think, part of a growth transformation. And I think we, we spoke about this a little bit, but wondering if, if your experiences, if you feel they have given you an increased sense of confidence? And is that also one of the benefits of having lived in a different country?
TPN
Yep, definitely. I think I have gained a lot sense of confidence when I was in the US, I think I was a much less secure person in like, only just two years ago. I was thinking about why I'm so insecure about myself and go—went through a lot of reflection about myself. And, and, of course, like, the long time, the excess, excessive, excessive, a long time in New York afforded me to think so much about myself like this. And I realized that the reason why I'm so insecure is because I'm very critical of myself. Like, for example, with other people, I would, I would not as critical about other people as I am to myself. So after having acknowledged that I had to redevelop a relationship with myself. Finally, accept who I am, I think, before you aspire and and try to achieve anything in your life, you have to start with cultivating yourself first.
APR
So I agree with you. I think that in general, we are more critical of ourselves. And well, you know, I think that can be good and bad. It can be positive and negative of course, if you hold yourself to high standards. But it's a fine line between that holding yourself to impossibly high standards. Not giving yourself credit where credit is due, not giving yourself some breaks. And I totally, I totally understand that for sure. How did you help to reestablish the relationship with yourself? Was that something that that sort of clicked automatically for you? Or was that a gradual process? Were you aware that you needed to reestablish relationship with yourself? Or did you already start doing that and then became aware that you were doing it in the process?
TPN
I think awareness is key. And then everything will roll over gradually. So you have to be aware that you are torturing yourself when you're doing it.
APR
When you're reestablishing the relationship or not having a reestablished relationship? Which, which one is the torture?
TPN
The torture for me is telling myself that I'm not good enough.
APR
I see, okay.
TPN
And just tormenting myself whenever I make a mistake.
APR
And how about how about now when you make mistakes today? You still, you still must be annoyed or frustrated somehow? But is it not as heightened? Is it not as acute that sense of frustration, or dread or anxiety?
TPN
Now whenever I make a decision, I reassure myself that this is the best decision that I can make at the moment with the amount of information that I have. So later on, I don't, I don't torment myself about that anymore, even though I make a mistake. Because, yeah, at the time, that's the only information that I can have. And that's the best decision that I can make at the time.
APR
Yeah, well, in fact, I don't think that you can have perfect information in order to make a decision at all. Certainly, it's not very realistic in decision-making in the everyday life. Or at least in some more important decisions in life. But in the process of actually resetting the relationship, was it just a matter of letting go of that, that weight that you had been carrying? And I imagine it must have felt liberating in a way? And do you think that process is something that you could have undergone had you not traveled or lived abroad?
TPN
I think I could have had the same experience, if I had just had a lot of time to myself and not having a lot of social influence.
APR
So that that time that you spend alone, reflecting, kind of ruminating over some things that was deeply helpful towards you reaching a point where you realize that you were just too harsh on yourself?
TPN
Yeah, too harsh on myself. And the reestablishing relationship with myself is keeping a new mantra about myself that my self worth is not dependent on my achievement, and not dependent on my characteristic. Self worth is inherent in—
APR
Innate.
TPN
Yeah, it's innate. So even though if I meet someone who is at a more much more senior role, and I am, I don't feel insecure anymore, because role and status doesn't mean that I'm less worthy than the person is.
APR
And at the end of the day, we all put our pants on the same way.
TPN
Yeah!
APR
One leg at a time.
TPN
Exactly. We are all heart broken, broken. Yeah, love still burns us at the same level.
APR
Very fiercely. So looking at bit ahead if folks out there listening are in interested in connecting with you in Vietnam, either because they have an opportunity in one of the industries you mentioned, agriculture, logistics, manufacturing, or city planning, what's the best way that they can reach out to you in a respectful way, the way that you would want them to?
TPN
Yeah, so you can reach me at Thao THAONP 279 at gmail. com. And I will be happy to chat with anyone cause I will be entirely new in Vietnam.
APR
Yeah, you will be in some ways like an outsider.
TPN
Yeah, an outsider again.
APR
It'll certainly be an exciting experience. Yep. And I wish you the best, of course, please keep us updated on your journey as you progress. Yeah. And until next time—
TPN
Yea. Thank you so much, Andrew. Vietnam will miss you.
APR
Well, it's mutual. And hopefully the next time we meet we'll be somewhere else in the world. And we can look back on on this time and also look forward to some new memories. So all the best until next time and take care!
APR
I'm grateful to Thao for sharing her experiences with us, and for being candid about the challenges she expects to face ahead. Check out the show notes for more information about Thao. And if you enjoyed this episode, please subscribe, leave a comment [or share on social media below] or a review. Thank you for listening and I hope you'll join us next week when we'll be in Piura, which is near the border with Ecuador.
---
Since my interview with Thao, she's started working at Kamereo (https://www.kamereo.vn/), a "B2B Purchasing and Sourcing Platform for restaurants in Vietnam", and has settled into Saigon quite nicely. She will be spending more time in Da Lat as well in between her travels.